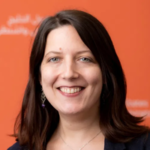 Emma Soubrier est chercheuse invitée à l'Arab Gulf States Institute à Washington et chercheuse associée à l'Université Clermont Auvergne (France). Ses recherches portent sur les stratégies de sécurité et les politiques étrangères des pays du Conseil de coopération du Golfe, notamment les Émirats arabes unis, le Qatar et l'Arabie saoudite, et l'économie politique des marchés d'armement dans la région du Golfe. Emma a publié de nombreux articles et chapitres de livres en français et en anglais sur les questions de sécurité du Golfe. Son livre à paraître, Qatar and the United Arab Emirates: Diverging Paths to Regional and Global Power (Boulder: Lynne Rienner, 2021) est tiré de sa thèse de doctorat, qui a reçu un prix de thèse de l'Institut des Hautes Etudes pour la Défense Nationale (IHEDN, France) en 2018.
Emma Soubrier est experte auprès du Forum on Arms Trade. Au sein d'une équipe de recherche avec la World Peace Foundation (Tufts University), elle travaille également sur un projet intitulé « Defence Industries, Foreign Policy and Armed Conflict » et financé par la Carnegie Corporation de New York.
Auparavant, Emma était chercheuse postdoctoral au Centre Michel de l'Hôpital, Université Clermont Auvergne (France) et chercheuse invitée à l'Institute for Middle East Studies de l'Elliott School of International Affairs de l'Université George Washington. Cette opportunité lui avait été offerte grâce à la bourse « Ambassadeur » de la Direction Générale des Relations Internationales et de la Stratégie (DGRIS, Ministère des Armées). Elle a travaillé pendant trois ans et demi au Ministère de la Défense français et pendant trois ans chez Airbus Defence and Space. Elle a obtenu son doctorat (science politique) à l'Université Clermont Auvergne en 2017 et est titulaire d'un Master en relations internationales de l'Université Panthéon-Sorbonne (Paris).
Ouvrages
Qatar and the United Arab Emirates: Diverging Paths to Regional and Global Power, Boulder (CO): Lynne Rienner, 2021 (à paraître)
(Coord.) Les Pays du Conseil de Coopération du Golfe, nouvelles puissances du monde arabe ?, Paris : Editions du Cygne, 2014
Re-construire une armée nationale : l'exemple du Liban depuis 1958, Cahier du RETEX du CDEF, Paris : Ecole Militaire, 2013
Articles en revue à comité de lecture
"The Weaponized Gulf Riyal Politik(s) and Shifting Dynamics of the Global Arms Trade", Economics of Peace and Security Journal, Vol. 15, No. 1, April 2020, p. 49-57
« La place de la France à l'international au prisme de ses partenariats stratégiques : les cas du Qatar et des EAU », Champs de Mars, n° 30/2018 : « La Relève stratégique », p. 181-190
Chapitres d'ouvrages collectifs
"The Gulf Crisis: A Case for Rethinking the Gulf Region Security Paradigm", dans K. Al-Jaber et D. Thafer (dir.), The Dilemma of Security & Defense in the Gulf Region, Washington: Gulf International Forum (GIF), 2019, p. 57-73
"Evolving Foreign and Security Policies: A Comparative Study of Qatar and the UAE", dans K. Almezaini et J.-M. Rickli (dir.), The Gulf Small States: Foreign and Security Policies, Londres: Routledge, 2016, p. 123-143
Articles (autres)
« Ambitions émiriennes sur la région : avancer ses pions en contournant les récifs des révolutions », Confluences Méditerranée, vol. 115, n° 4, hiver 2020/2021, pp. 173-184
"Redefining Gulf Security Begins by Including the Human Dimension", AGSIW Issue Papers, Washington: AGSIW, novembre 2020
"Gulf Security in a Multipolar World: Power Competition, Diversified Cooperation", AGSIW Issue Papers, Washington: AGSIW, mars 2020
Commentaires / Billets de blogs
"The Gulf Cooperation Council at 40: Finally Ripe for a Regional Security System?", AGSIW, 27 mai 2021
"The United States is Ready for Teamwork in the Gulf", AGSIW, 29 janvier 2021
"What the F-35 Deal Says About U.S.-UAE Relations", AGSIW, 3 novembre 2020
"UAE Security Apparatus Central to Its Pandemic Response", AGSIW, 7 juillet 2020
"The European Response to the Saudi Attacks: A Careful Balancing Act", AGSIW, 30 septembre 2019
…ainsi que de multiples présentations de travaux en conférences internationales et interventions dans les médias
Economie politique des marchés d'armement internationaux
Dynamiques évolutives de la sécurité du Golfe